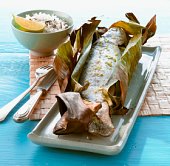 Patra-Ni-Macchi (Spicy Pomfrets steamed in banana Leaves)
Spicy marinade makes this steamed fish preparation deliciously aromatic!!
Excellent source of high biological value proteins, omega-3 fats and calcium.

** You can exchange Pomfret fish with Salmon, or Whiting, however the nutritional breakdown will change.

Ask our in house dietician to re-calculate the recipe content with the fish you prefer.